We are based in North Essex near Colchester and with today's technology and efficient courier networks we can cover any area and are comfortable working across a broad range of customers from private individuals to large corporations.
Any job no matter the size will warrant our full attention.
---
Materials cut include:
MDF
Plywoods of all types
Acrylic, Plastics, Corian
Di-Bond, Composites
Solid Timber
Laminates
Veneer, Laminates
Chip-board
---
Our range of products & services include but are not limited to:
House Signs
Engraving
Letters
Bird boxes
Shelves
Benches
Bath panels

Batch & production quantities across all industries
One-offs & Prototypes
Shop displays & Fittings
Pattresses
Gaskets
Templates & Jigs
Formers
Van Conversions
---
Bespoke, customised, personalised products or services:
If you have a specific requirement for anything custom made, personalised or bespoke we are here to help.
Products & Services we offer include: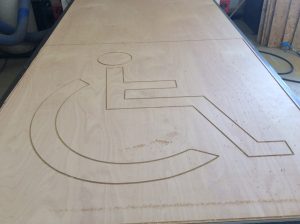 Marketing & Promotional Material
Engraving
Wedding Favours
Gifts
House Signs
Shelves, Cupboards
Cabinets
Wardrobes
Bath Panels
Letters
Decorative Panels
Radiator Covers
Van Lining, Racking & Storage
Boat, Caravan, Motorhome parts
Replacements for broken, obsolete or unavailable parts
Packaging for fragile valuable items including closed cell foam