We have recently installed a 36'' x 48'' digitizing tablet from GTCO Calcomp.
This enables us to take direct measurements and shapes from a template or drawing and convert it into a DXF file which can be loaded into our CAD software and then sent to the CNC router to cut the shape.
---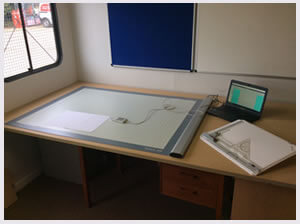 The benefits of this system are:
No need to measure and plot awkward shapes manually
Odd or awkward shapes can be traced with ease
If you have an awkward shape or component just make a template which can be as simple as drawing round the object onto a sheet of paper. We can then trace the shape on the digitizing tablet and convert the shape into a DXF file suitable for cutting on the CNC router.
Curves, arcs and angles are easily plotted without having to know the sizes and positions which is ideal for scribed lines.
The digitizer tablet is 36''x 48'' so we can accommodate large templates and anything over 36''x 48'' can be plotted in stages. Then using our CAD software we just join the plots together to complete the whole part.
Our CNC router has a capacity of 8' x 4' so we can construct any shape within this size window.
---
The beauty of this system is that once we have the shape as a DXF file the CNC router will cut that exact shape time after time. So, if you have a requirement for multiple copies of an awkward shape we can copy and nest the relevant parts on a sheet and cut them accurately all in one operation thus maximising material usage and reducing time.
This system could be useful for example if you are building or converting a van or motorhome. Mark out some simple templates from an easy to cut material such as cardboard. Send them to us and we can cut the relevant parts from which ever material is being used and they will accurately match the template so the parts will fit first time with a far superior finish than if they were cut by hand.
If you have an out of square corner or you want a particular shape cut. Draw the shape you require on to a piece of cardboard or paper and we can plot and cut that shape exactly.
As the digitizing tablet will plot the size required there is no need to scale up or down
---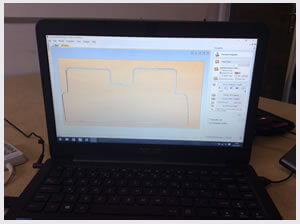 Our CNC router is accurate to + – .05mm which is far more accurate than cutting by hand.
Suitable for making hand routing jigs for on site work. This system will reduce any error that may be introduced by templating an awkward shape then hand cutting a jig and then cutting the final part such as a worktop from the hand cut jig.
Direct plot from template to computer. No need to measure or calculate angles; radii or arcs.
We can digitize and supply DXF files for cutting on other machines such as plasma cutters; laser cutters or waterjets. Please ask for details.
With our CAD software we can incorporate the shape required on to any part. For example if you have a cornice on your ceiling and you want to build a wardrobe just template the cornice shape and we can digitize this shape and add it to the relevant position on the wardrobe panel so it will fit first time.
---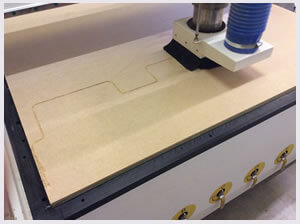 The GTCO digitizer is used to convert hand-drawn images and shapes into a format suitable for computer processing. The device consists of a flat surface with a special pen-like stylus on which we can draw or trace an image which can then be converted to a DXF file and then cut on the CNC router.
The digitizer can be used in a range of different industries including:
Manufacturing
Woodworking
Plastics
Machining
Van lining & conversion
Sign-making
Boat building & repair
Furniture
---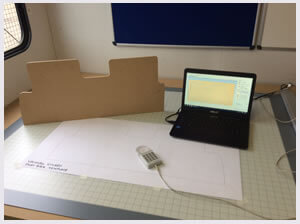 The digitizer can quickly and accurately trace templates, patterns, objects, gaskets, custom parts and any other complicated or awkward shape.
All you need to do is supply us with a pattern, cardboard template or a drawing on a piece of paper with the part or object that you require. Your template is placed on the digitizer and we can easily trace the object using the special pen-like stylus and get the digitized image on the computer screen ready to view, convert it to a DXF file and cut it out on the CNC router.
The GTCO digitizer will dramatically cut programming time from drawings or templates
Reduce errors and wastage
Accurately reproduce the shape required with minimal effort
For further details on our Digitizing Service please contact us.