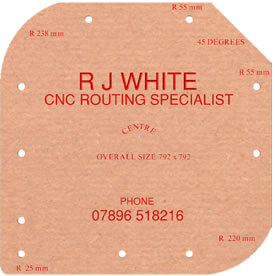 Based in North Essex near Colchester, with today's technology and efficient courier networks we can cover any area and are comfortable working across a broad range of customers from private individuals to large corporations.
Our CNC router has a capacity of 1220mm x 2440mm which allows us to load standard 8' x 4' sheets which are held using a powerful vacuum table. The powerful 5.5kw spindle and 8 station tool change facility enable us to machine complex shapes and components in one operation for maximum accuracy and efficiency.
The software we use supports most CAD files or just send us a picture or sketch and we can do the rest. We can then send you an image for approval before any material is cut. The software also allows us to nest and copy parts to maximise material usage thus reducing waste.
---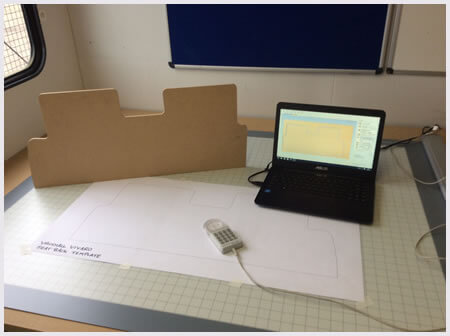 Digitizing Service
Our 36'' x 48'' digitizing tablet from GTCO Calcomp gives us a competitive edge in the market.
The digitizing tablet enables us to take direct measurements and shapes from a template or drawing and convert it into a DXF file which can be loaded into our CAD software and then sent to the CNC router to cut the shape.
The benefits of this system are:
Accurately reproduce the shape required with minimal effort
Odd or awkward shapes can be traced with ease
Direct plot from template to computer. No need to measure or calculate angles; radii or arcs